Film production is a growing industry in the Greater Toronto Area, with the area colloquially referred to as Hollywood North. That being said, shooting films can be a lengthy process and crew members will need a comfortable and convenient place to stay for the duration of filming. 
Booking hotel rooms for cast and crew may be the easiest choice, but isn't the least expensive, nor convenient. A Home Away From Rental may be your best option when looking for film crew housing in the Greater Toronto Area. Here are some reasons to consider staying at Platinum Suites.
Convenient Location
Location-wise, you can't beat how centrally located our buildings are. We are located in the heart of Mississauga's downtown core, across from Square One Shopping Centre and next to the city's transit hub. Our executive apartment rentals are located strategically for access to Go Train Bus and Trains and Mississauga's public transit system, MiWay. 
Pus, every weekend in summer there is a festival at nearby Celebration Square, where you can catch an outdoor movie screening on Thursday nights. There are gorgeous parks nearby, too, for your cast and crew to enjoy during downtime.
Take Amenities into Account
Platinum Suites' Apartment Rentals provide everything you will need to feel at home, including WiFi, Full Kitchen, fitness gym and pool.  Our suites feature a balcony and separate bedrooms and washrooms. Although our accommodations (an "Apart-Hotel") are self-catering, our staff offer exemplary service and will work hard to provide you with service that far surpasses other condominium suite rental agencies.
Note that while the Greater Toronto Area remains in lockdown due to the COVID-19 pandemic, common area amenities will be closed. 
All the Comforts of Home
If you strive to eat healthy, it makes sense to cook your own meals. We are within walking distance from several grocery and convenience stores. With a hotel you are often limited to expensive restaurants or fast food. Even our local take-out options offer ethnic diversity, catering to every taste. If you prefer to prepare your own food, our suites include a full fridge, stove, dishware, and dishwasher. 
One of the most challenging things about a lengthy stay is laundry. When you're busy filming a movie, the last thing you need to waste time on is waiting for laundry to come out of the washing machine. Each of our units has convenient in-suite laundry, so you can go about your day without having to worry about a thing. 
Significant Savings
The average 30-day stay at a hotel could run you a bill of up to $5,000.  If you require accommodations for several months, this will be be very costly. Platinum Suites offers higher quality rooms at a cheaper price of approximately $2, 900.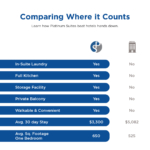 Take advantage of our furnished apartments for short or long-term stays for the entertainment production community. We work with movie, television, theatre and music productions, providing them with interim accommodations in a convenient and comfortable location. Contact us to book your stay.
By Lisa Marie Brennan