Home Away from Home Rentals
Furnished Home Away from Home Rental Apartments
Finally, a place to relax. Whether you're with family or friends, it's more comfortable to have a rental suite if you are planning a stay for more than four nights.
Shop for and prepare your own food to save money and feel comfortable at home. Or order in and eat at a proper kitchen table with real cutlery and plates.
Location-wise, you can't beat how centrally located our buildings are. Every weekend in summer there is a festival at nearby Celebration Square, where you can catch an outdoor movie screening on Thursday nights. There are gorgeous parks nearby, too! You can't beat Square One Shopping Centre, which is a restaurant and entertainment hub.
Contact us to learn more, or to inquire about special accommodations for any of your needs.
How Platinum Suites beats hotels hands-down:
If you strive to eat healthy, it makes sense to cook your own meals. We are walking distance from several grocery and convenience stores. With a hotel you are often limited to expensive restaurants or fast food. Even hotel suites with a "kitchenette" provide the means to heat and store food only. Even our local take-out options offer ethnic diversity, catering to every taste.
Save money over a hotel suite or room. You get far more for your dollar with a furnished rental, including separate bedrooms and a balcony.
Do en-suite laundry with your own stacked washer and dryer. What is more convenient?
Scroll down to see our room configurations or select the boxes below for more information. Click here to inquire about your dates now!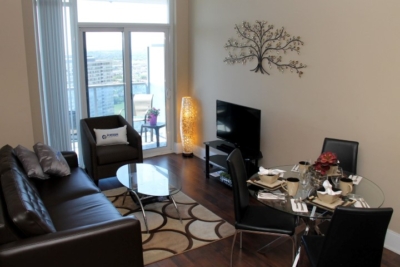 Discover Our Suites
Platinum Suites' Apartment Rentals for business stays provides everything you need to feel at home, including WiFi, full kitchen (NOT just a "kitchenette"), fitness gym and pool. All rooms feature a stacked washer/dryer, kitchen with oven, stove, fridge, dishwasher and all dishware. Our suites feature a balcony and separate bedrooms and washrooms. Although our accommodations (an "Apart-Hotel") are self-catering, our staff offers exemplary service that far surpasses other condominium suite rental agencies. Expect more from Platinum Suites!