Executive and Employee Relocation
The global workplace is a new reality. And with a growing number of corporate head offices in Mississauga, our city has become a short-term home for executives and corporate employees relocating for a work assignment.
When your role is a housing coordinator in the world of workplace mobility, you need to focus on the many elements of your job, such as determining a family's or an individual's needs, cross-border paperwork, or taxation, and to ensure they all come together seamlessly. When you book with us for an extended corporate stay for your clients, you can trust that we deliver so that you can deliver the level of comfort, safety and service your clients expect — satisfaction guaranteed.
Our central location, exemplary service and comfortable apartments provide far more than a hotel suite and are much more affordable.
Call us today at 1-888-507-7829 or contact us here.
Join our LinkedIn community by following our page here – connect with us!
Platinum Suites knows relocation:
We are members of CERC, the Canadian Employee Relocation Council
We can offer direct billing to the booking company.
We can arrange for pre-viewing of our facilities before guest arrival.
We can accommodate special requests, and answer questions about local services, schools, medical facilities, religious or language needs, as much as possible. We are always nearby, so you will never experience absentee owners.
We offer significant cost savings over extended-stay hotel suites, with more living space, full kitchen and laundry facilities. Hotel suites cannot compete with our home-away-from-home experience.
Scroll down for more about our suites, or select from the choices below.
Submit a form here to inquire about availability, or get in touch with us here.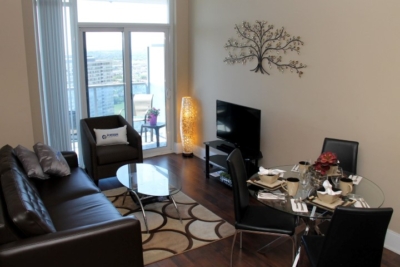 Discover Our Suites
Platinum Suites' Apartment Rentals for business stays provides everything you need to feel at home, including WiFi, full kitchen (NOT just a "kitchenette"), fitness gym and pool. All rooms feature a stacked washer/dryer, kitchen with oven, stove, fridge, dishwasher and all dishware. Our suites feature a balcony and separate bedrooms and washrooms. Although our accommodations (an "Apart-Hotel") are self-catering, our staff offers exemplary service that far surpasses other condominium suite rental agencies. Expect more from Platinum Suites!