Immigration & Settling In Canada
It's hard to think of a more welcoming and diverse city than Mississauga for newcomers. But making a move from your country of residence is never easy. With all the challenges facing a big move, the last thing you want to worry about is your accommodation.
A rental apartment suite can solve so many issues because it's like walking into your new home without any of the uncertainties. Maybe you are planning to test the waters, or get settled in a job before you bring your family over. Or maybe you are sponsoring your family to come and they need a place while you help them look for a permanent home. Rest assured that everything you need is at your fingertips.
Platinum Suites is owner-operated by professionals who understand what you need, and can help if something is not as expected. We can recommend great local agents, healthcare providers, a newcomer centre, and any service necessary to make your transition easier.
Here are some ways Platinum Suites is the best choice for your big move:
Mississauga is the home of ethnic diversity. Restaurants cater to every style of food preparation, from halal to vegetarian.
Hospitals offer services in multiple languages to meet your healthcare needs.
Platinum Suites offers a fully furnished apartment suite for a much lower cost to you. You get separate rooms and a full kitchen and bathroom (s), as well as a laundry washer and dryer. We can even accommodate small pets!
Please contact us today.
Welcome home!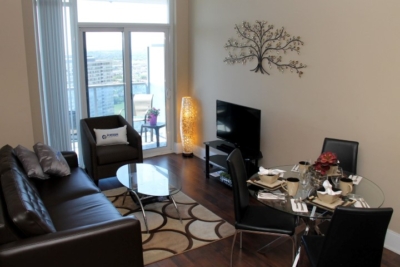 Discover Our Suites
Platinum Suites' Apartment Rentals for business stays provides everything you need to feel at home, including WiFi, full kitchen (NOT just a "kitchenette"), fitness gym and pool. All rooms feature a stacked washer/dryer, kitchen with oven, stove, fridge, dishwasher and all dishware. Our suites feature a balcony and separate bedrooms and washrooms. Although our accommodations (an "Apart-Hotel") are self-catering, our staff offers exemplary service that far surpasses other condominium suite rental agencies. Expect more from Platinum Suites!