Stay with Platinum Suites During Your Move or Home Renovation
Moving is one of the most stressful transitions of our busy lives.
There are several ways Platinum Suites' furnished apartment rentals can help during these times. Some things to consider:
Between closing dates, you may have a short-term housing need. If the area is suitable for you and your family, there is no better choice than our suites. Why?
Prolonged stays can be an inconvenience for family members who offer their help. It can be disruptive, and privacy will be limited. Our suites offer separate rooms and living areas.
Hotels are not suitable for more than a night or two, if you want to continue on with life as usual — especially with children.
Hotels, even extended-stay suites, do not offer laundry facilities or full kitchens, and they are almost never located in a convenient area. Our suites have a Walk Score of 92! In Mississauga, you won't find a higher score for convenient, healthy living. These things make your stay as much like home as possible.
What about your home renovation? That's been proven to be very hard on family life, too. Building contractors recommend that a family lives elsewhere for a couple of reasons:
The safety issues of living in a work zone make it challenging for both the workers and the family to function because contractors have to take extra safety precautions to ensure the area is safe. This can add to the length of a renovation, and therefore add to the cost.
The disruption of work crews in your home can be stressful and cause all sorts of headaches. What would be better than staying in comfort and style for the duration of your reno, then arriving home to find things move-in ready? Why not live in comfort and convenience for the time in between?
We can help. Send us an inquiry to find out how much it would cost to put up the family for the time you need. You may be pleasantly surprised to discover what is possible!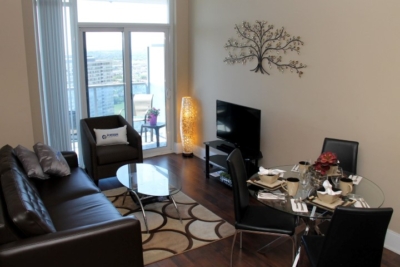 Discover Our Suites
Platinum Suites' Apartment Rentals for business stays provides everything you need to feel at home, including WiFi, full kitchen (NOT just a "kitchenette"), fitness gym and pool. All rooms feature a stacked washer/dryer, kitchen with oven, stove, fridge, dishwasher and all dishware. Our suites feature a balcony and separate bedrooms and washrooms. Although our accommodations (an "Apart-Hotel") are self-catering, our staff offers exemplary service that far surpasses other condominium suite rental agencies. Expect more from Platinum Suites!