Business And Corporate Stays
Business And Corporate Stays​
So, you are planning a business trip to the GTA (Greater Toronto Area) and are shopping around for extended-stay executive rentals.
Perhaps you are searching for accommodation West of Toronto because you know that Mississauga is super-convenient, with its proximity to Pearson International Airport (YYZ), Square One Mall and highways.
You may be looking into a hotel room or suite for an extended-stay booking. Did you know there is a more comfortable alternative?
Platinum Suites can provide the best experience in executive suites and corporate apartment rentals (satisfaction rating 8.5!).
Our central location, exemplary service and comfortable apartments provide more than a hotel suite, at a budget-friendly price.
We know you do your homework – and you are watching the bottom line for value. See how our suites compare, using our charts here!
Call us today at 1-888-507-7829 or contact us here.
Some of the ways we help business and corporate travelers:
Direct Billing is possible for HR managers to book travel for executives, or to expense travel costs.
Office equipment, such as printers and copiers, can be borrowed during your stay.
Entertain clients or colleagues in your suite. For privacy and cost reduction, order takeout, or get meals catered and delivered to your suite!
Local business discounts: We have formed partnerships with local businesses to pass on discounts, and provide you with anything from postal services to office rental.
Rent our Stylish, Private Boardroom for that important meeting.
Reduce costs on getting around! Walk Score rates Platinum Suites a 92, otherwise known as a "Walker's Paradise!"
Select an area below for more.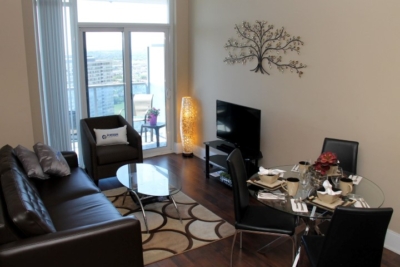 Discover Our Suites
Platinum Suites' Apartment Rentals for business stays provides everything you need to feel at home, including WiFi, full kitchen (NOT just a "kitchenette"), fitness gym and pool. All rooms feature a stacked washer/dryer, kitchen with oven, stove, fridge, dishwasher and all dishware. Our suites feature a balcony and separate bedrooms and washrooms. Although our accommodations (an "Apart-Hotel") are self-catering, our staff offers exemplary service that far surpasses other condominium suite rental agencies. Expect more from Platinum Suites!