What better way to celebrate your loving, hardworking mother than taking her out to brunch? With Mother's Day just around the corner, the time is now to make a reservation at one of the following top brunch spots in Mississauga!
Breakwater Restaurant Located within The Waterside Inn, Mississauga's award-winning Breakwater Restaurant is the perfect place to treat your mom to an elegant brunch this Mother's Day!
The sophisticated dining room features beautiful views of Lake Ontario and is an amazing spot to relax over a delicious meal. Enjoy sumptuous cuisine that features only the finest ingredients and is always artistically presented. The Breakwater Restaurant's qualified wait staff will provide warm, friendly service that is bound to make your mother feel special! Adults cost $58.95/adult and children under 12 are half-price.
The Glenerin Inn and Spa
Located on two acres of picturesque, sprawling grounds in Mississauga's Sawmill Valley, the Glenerin Inn and Spa features a brunch experience that is unlike anywhere else.
Honoured to be a member of Ontario's Finest Hotels, Inns & Spas, everything about the Glenerin Inn and Spa denotes quality. Their brunch experience is no different! With a special Mother's Day brunch menu (priced at $56.95/adult and $27.95/child under 12), your mother will leave the restaurant feeling renewed!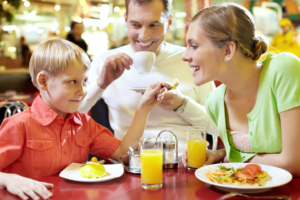 Taza Grill
Taza Grill is a place dedicated to making you feel comfortable whether you're wearing blue jeans or your Sunday best!
Located within the Four Points by Sheraton Mississauga, Taza Grill consistently serves up sumptuous food. This Mother's Day, enjoy their relaxing atmosphere during brunch, which costs $42.95/adult, $28.00/children ages 8-12 and $15.00 for children ages 3-7.
Voted one of the top five hotel restaurants in Mississauga, Mother's Day brunch at Taza Grill will not disappoint!
Kravingz
Served all day, Kravingz's brunch menu choices begin at only $11.00 and aims to satisfy! The quality food is created with ingredients from local suppliers and made with pride by the couple who owns the restaurant.
If you're looking for a fun, simple atmosphere to take your mom to this Mother's Day, then Kravinz can provide the solution!
Muddy Duck Restaurant
For a comfortable, low-key atmosphere with uncompromised service and food, look no further than Muddy Duck Restaurant!
Around since 1978, this restaurant has a solarium surrounded by beautiful plants as well as an attentive staff serving an exciting menu. For only $23.95/adult and $13.95/children ages 12 and under, enjoy traditional brunch fixings as well as an omelette station!
Give the Gift of Relaxation this Mother's Day! If your mother is not a brunch lover, then Platinum Suites can provide an alternative Mother's Day gift idea!
Pre-book one of our beautifully furnished suites in Mississauga this Mother's Day and let your mom enjoy a stress-free getaway! While staying at Platinum Suites, she can enjoy our many amenities and services, including our indoor swimming pool with jacuzzi and sauna. Contact us today to reserve the perfect Mother's Day getaway!
By Sarah McKenzie