With Mississauga's numerous restaurant choices, there's not far to go when you're craving something delicious! But what if you have a diet sensitivity? If that's the case with you, the five restaurants below have you covered!
Besides its well-known Italian dishes, Mondello Restaurant (located at 127 Queen St. S., Mississauga) offers gluten-free and vegetarian-friendly options, too!
Restaurant features include gluten-free beef tenderloin, salmon and Zuppa di Mare. The expert culinary team even accommodates requests for gluten-free pasta for some dishes!
Although upscale, Mondello Restaurant has a friendly atmosphere with genuine hospitality.
At 94 Lakeshore Rd. E. in Mississauga, Raw Aura is known for its healthy, homemade cuisine. To help maintain their menu's integrity of being vegan, dairy, egg, gluten and sugar-free, Raw Aura Organic Cuisine does not allow any outside food into their restaurant.
From its nachos to its lemon pepper Alfredo, Raw Aura Organic Cuisine offers plenty of options where people with specific dietary restrictions can order freely off the menu.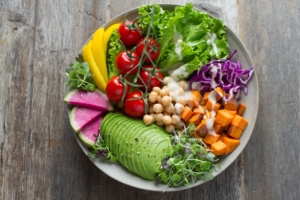 Come to Twin Fish (80 Courtneypark Dr. E., Mississauga) to experience expertly created, fresh Thai cuisine featuring plenty of vegetarian dishes. Vegetarian choices include Basil Tofu, Chinese Broccoli with King Mushroom – Pad Kana and Thai Basil Eggplant. Gluten-free options are also available.
All of the menu's options promise great-tasting food that will appeal to a broad range of tastes and preferences.
For a dedicated gluten-free, celiac facility that offers safe, delicious food, look no further than Basil Box, located at 100 City Centre Dr., Mississauga. Basil Box's unlimited, customizable menu enables you to never have the same meal twice!
Create your own mixture starting with a base (rice, noodles or spring mix), then choose from a selection of vegetables and protein. Choose from a variety of toppings, including crispy shallots, fresh herbs and crushed peanuts to top your customized creation!
A quick, fast and tasty restaurant choice for those with dietary restrictions!
Bamboo Legend (located at 3145 Dundas St. W., Mississauga) has a Thai and Vietnamese infused menu that features family recipes, homemade sauces and unique flavours.
Upon request, its expansive offers menu can be adjusted to accommodate gluten-free, dairy free and nut free requests. Chef specialties include spicy fillet fish and cashew nut – although plenty of other menu options are available!
It can be hard enough knowing which restaurants cater to diet sensitivities in your hometown, but even more so when you're visiting from another city! But with Mississauga's huge restaurant scene (including many establishments that cater to diet sensitivities), the search becomes easier!
When visiting from out of town, be sure to stay at Platinum Suites, the number one provider for furnished apartments in Mississauga. Not only are there plenty of restaurants nearby that cater to diet sensitivities, but our onsite staff can provide further advice on the city's restaurant scene. Contact us today to book your stay!
By Sarah McKenzie